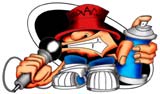 This month (September, 2004), Hip-Hop celebrates 25 years of commercial success. The artform had existed on the underground for years, but things changed.
Top40-Charts.com celebrates the occassion with it's Top 100 Greatest Hip-hop/Rap Singles of all time feature.
We've asked over 200 musicians, songwriters, disc jockeys and radio programme producers to vote for the 100 greatest hip-hop/rap songs. SEe the results!