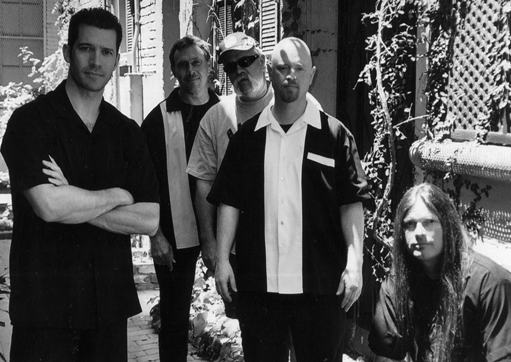 LOS ANGELES (www.barnburnersblues.com) - Southland blues band The Barnburners have teamed with The Oozie Blues Show to perform live on Sunday, January 16th, 2005 at Diane's Blues Club in Arcadia, California to benefit victims of the recent Tsunami in Southeast Asia. The show will begin at 2:00 pm, and run through the evening. A $5 Donation is suggested, but any donation is accepted. Other bands on the roster to be announced.
Diane's Blues Cafe
16 Huntington Ave
Arcadia, CA
(626) 447-9349
About The Barnburners
Formed in 1997 in Yorba Linda, California, The Barnburners have performed in major venues across Southern California including The Coach House (San Juan Capistrano), The Galaxy Theater (Costa Mesa), B.B. King's (Universal City), and many more. They have performed on the same bill with many Blues artists including Greg Serrato, Teresa Russell & Cocobilli, BB Chung King & The Buddha Heads, etc . The band has performed in music festivals throughout Southern California, everywhere from
Leona
Valley to Yorba Linda. You can find Barnburners recordings on radio stations throughout the United States, as well as in
Europe
and Latin America. The band's first c.d., Workin' Overtime, is available for purchase at www.dwmmusic.com. Most recently, the Barnburners participated in the International Blues Challenge, 2004. For more information regarding The Barnburners, write to:
Joe McGaha
10 Marino,
Rancho
Santa
Margarita, CA 92688
Phone: (909)938-6533 Fax: (303)845-5984 E-Mail: bookings@barnburnersblues.com
About The Oozie Blues Show
Norman Pingrey plays bass. He served his apprenticeship as a bluesman in the Bay Area between 1988 and 1995 as a member of both T.W. Henderson and Big Time and Deacon Jones and The Bucket of Blues. During this period he jammed with John Lee Hooker and performed warm-ups for John Lee Hooker, Elvin Bishop, and Joe Louis Walker, among others. In 1995 he traveled to Ireland with T. W. Henderson and Archie Hooker (John's nephew) where he performed concert and club dates. Norman has incorporated some of the best musician into The Oozie Blues Band.
Joe
Houston
is a frequent "Special Guest" of the band. Joe Houston's love affair with the blues began over 50 years ago when he met and married his first saxophone. Since then, he has made great music with a list of luminaries that would make the heavens envious, including, John Coltrane, King Kolax, Big Joe Turner, Gatemouth Moore, Amos
Milburn
and the Rolling Stones. Joe
Houston
is a honking R&B saxman of wallpaper-peeling potency who recorded for virtually every major independent R&B label in Los Angeles during the 1950s.
Mister Blues Leshun sings and plays harp. He was born in
Texas
and moved to Los Angeles in his youth. He was a regular at various clubs in the South Central Blues Scene for approximately thirty years. In those days his main axe was bass . He jammed with virtually everybody that was performing blues in the area at that time, including; Jimmy Reed, Joe
Houston
and Big Mama Thornton.
Honey
Davis plays quitar, slide guitar and sings. He has a long resume in the blues which includes an extended membership in Charles Brown's Band and stints with Bay Area Bluesmen,
Sonny
Rhoads and Freddie Roulette. He has performed in Los Angeles for years perfoming with Smokey Wilson, amoung others. He has led his own bands and recorded his own albums. Played with:
Billed With:
Charles Brown
Bobby
Bland
Solomon Burke Jr. Wells And
Buddy
Guy
Smokey Wilson
Robin
Ford
Jimmy McCracklin Jimmy Witherspoon
Vernon Garret Gatemouth Brown
Sonny
Rhodes Lowell Fulson
Freddie Roulette
Robin
Trower
Luther Johnson Mike Bloomfield
Dottie Ivory
Janell Hawkins
Sugie Otis
Ted Taylor
Chuck Higgins
Joe Houston
Guitar Shorty
Lewis Madison
Cardella DeMilo
Johnny "D" plays drums and sings. He is also a veteran of the South Central Blues Scene. He has performed with many great artist including; Albert King, Smokey Wilson, Lowell Fulson, John Lee Hooker, Deacon Jones, The Drifiters and the list goes on.
Elliott Chaver's has always played Jazz, but began to find that there was a growing audience in Rhythm 'n Blues. His musical style began to synthesize these two musical forms to create his own inimitble sound of Jazzy Blues. Chaver's sultry sax fueled hits to the top of the charts three times in his career: "Butter Beans", "Fool Fool Fool", and "Rock My Soul".
Elliott formed his own band in the mid-sixties, and led the house band at the legendary 5-4 Ballroom near L.A.'s storied Central Avenue for many years. While at the 5-4, he backed many great artists, including T-Bone Walker,
Lloyd
Price, Lil' Jr. Parker, Freddie King, and Jimmie Reed. He has also played with greats such as Pee Wee Crayton, Roy
Milton
and the Johnny Otis Orchestra. The Iist goes on.
Elliott has always been known for his "Big
Texas
Tenor" sound, but it was quite by accident that his singing career began. While appearing with Sam Cooke, in
Phoenix
Arizona, Sam was late, there was no one else in the band that could sing. Elliott stepped up and a "Star was born".
Since the resurgence of Gospel, few artists have equaled the successes of Elliott Chavers. His career spans four decades with credits reading like the Rhythm N' Blues Hall of Fame.
Saxophonist Jonny Viau (PRONOUNCED VIEW), a native San Diegan, has been honkin' his horn for over 20 years now, 15 of which have been spent playing R&B, soul and jazz. The seed was planted for his first and foremost love, the blues, in 1965, when he attended a
Rolling Stones
concert in downtown San Diego. He was 8 years old, tickets were $4.50 and Patty LaBelle and the Blue Bells were one of the opening acts - a "sideman" was born. He played the guitar for a few years and then bought a set of drums with money from his paper route. " ...took me a year and a half to pay for those $175 drums!" His first gig ever was on the drums with a three-piece accordion band. "Dig this, it was a battle of the accordion bands - each band had four accordion players and a drummer, and could only play one song. Ours was Wipeout. We did." From drums, Jonny went on to play the harmonica, then the flute, and finally the sax. He did the school band thing for a while, but gave that up when he realized he was never going to be accepted by the band nerds... and he wasn't that good anyway! So he did the obvious - joined a rock & roll group. It was called Orbis Max. "In Poway, CA, where I grew up, Orbis was considered hot stuff! So I kept at the sax, bought a truck to haul the PA, and managed to keep my gig."
In 1980, Jonny joined the King Biscuit Blues Band, a local San
Diego
group. He played with them until 1988 when he went on the road with a New Orleans singer out of San Jose named C. P. Love. "That was way cool... I was the only white boy in an all-black soul band!" After the road came various stints with other blues bands - The Rhumboogies, The Juke Stompers, Romy Kaye and the Swingin' Gates, Ruby and the Red Hots, Bad Dog, Candye Kane, Blond Bruce, The Mississippi Mudsharks, The Joint Chiefs, Lucky Scandal and many more.
In 1989, Jonny did his first tour with The Pleasure Barons, a super assemble put together by the late Country Dick Montana from the Beat Farmers. "We had Mojo Nixon, Dave Alvin, Juke Logan and more... In '93 we had another tour with the addition of John Doe from X, country's Katy Moffet and San Diego's own Rosie "don't call me weasel' Flores." Jonny Viau has also done recording sessions with
William
Clark, the Beat Farmers, the Pleasure Barons, the Mississippi Mudsharks, Earl Thomas, Candye Kane, Mitch Woods,
Robin
Henkel and
James
Harman, Hot Rod Lincoln, Rod Piazza and the Mighty Flyers, Jimmy Morello.
https://www.barnburnersblues.com
Liten here:
https://12.217.250.54/AudioClips/Barnburners_Travelin.ram