NEW YORK (AP) - While Dec. 31, 2001, may not rank up there with the millennium celebrations, there's still plenty of top-notch live music being presented in the clubs and arenas of the U.S. this New Year's Eve. So, if you're planning to get off the couch while Dick Clark rings in 2002 in Times Square, rest assured that there are worthwhile options in most major cities.
In New York, band of the moment the Strokes will open for perennial indie favorite Guided By Voices at the famed Apollo Theatre. Further downtown, Phish's Page McConnell will premiere his new band, Vida Blue, which features bassist Oteil Burbridge (Aquarium Rescue Unit, Allman Brothers) and drummer Russell Batiste (Allen Toussaint).
Los Angeles will offer electronic music fans the most this year, as the city's Hollywood Boulevard will host an outdoor rave with headliners Paul Oakenfold, Deep Dish, and BT, and across town at the Los Angeles Coliseum Memorial Gardens, Paul Van Dyk, DJ Sasha, and Derrick Carter will lead an indoor event.
Country fans can party in Bakersfield, Calif., where Buck Owens' Crystal Palace will host its namesake owner and Dwight Yoakam, and in Nashville, where Kenny Chesney, Jamie O'Neal, Sara Evans, and Phil Vassar will perform at the Gaylord Entertainment Center.
But it's Las Vegas that will offer the most entertainment to ring in the 2002, with everything from oldies acts (the Fifth Dimension, the Four Tops) to aging rockers (Spencer Davis Group, Guns N'Roses, Billy Idol), and crooners (Tony Bennett, Wayne Newton) to electronica (Oakenfold, Static Revenger).
Here is a list of New Year's Eve live music highlights in the U.S.:
Atlanta
- Living Colour / Lennon (Coca Cola Roxy Theatre)
- Man Or Astro-Man? (Echo Lounge)
- Widespread Panic (Philips Arena)
- John Kay & Steppenwolf (Underground Atlanta)
- The North Mississippi Allstars / Ghost Trane (Variety Playhouse)
Austin, Texas
- Bob Schneider (Antone's)
- Robert Earl Keen (Austin Music Hall)
- Ian Moore / Vallejo / Dames Violet (La Zona Rosa)
- Bobby "Blue" Bland (Hilton Austin)
Bakersfield, Calif.
- Buck Owens / Dwight Yoakam (Buck Owens' Crystal Palace)
Baltimore
- Mighty Mighty Bosstones / They Might Be Giants (Bohager's)
Boston
- The Sheila Divine (Paradise Rock Club)
- Gato Barbieri (Sculler's)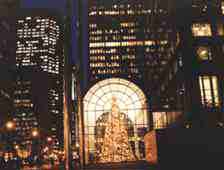 Chicago
- Luther Vandross (Chicago Theatre)
- Cowboy Mouth (Congress Theatre)
- Liquid Soul (Double Door)
- Train / Verve Pipe / Better Than Ezra (House of Blues)
- Robbie Fulks (Martyrs')
- Reverend Horton Heat / The Waco Brothers (Metro / Smart Bar)
- Cheap Trick / Robert Bradley's Blackwater Surprise (Navy Pier)
- Dark Star Orchestra (Riviera Theatre)
Dallas
- Slobberbone (Barley House)
- Sevendust / Drowning Pool / Union Underground (Bronco Bowl)
- Brutal Juice / Baboon (Trees)
Lake Buena Vista, Fla.
- Cyndi Lauper / Joyce Cooling Group / Tone Loc (Disney's Pleasure Island)
- Edwin McCain (House of Blues)
Las Vegas
- Dennis Quaid & The Sharks (Aladdin Hotel & Casino)
- Gladys Knight (Bally's)
- Bill Haley's Comets featuring Al Rappa (Four Queens Hotel)
- Guns N' Roses (The Joint @ the Hard Rock Hotel)
- Billy Idol (House of Blues, early show)
- Paul Oakenfold / Robert Oleysyck / Static Revenger (House of Blues, late show)
- Guttermouth (Huntridge Theatre)
- The 5th Dimension (Imperial Palace Hotel)
- Huey Lewis & the News (Las Vegas Hilton)
- The Four Tops / Village People (New York, New York)
- Tony Bennett (Paris Hotel & Casino)
- Frankie Valli and the Four Seasons (Riviera Hotel & Casino)
- Gary Lewis & The Playboys / Mitch Ryder / Mark Lindsay (Silverton Casino)
- Wayne Newton (Stardust Resort & Casino)
- Spencer Davis Group (Flamingo)
Los Angeles
- Giant Village 2002 - Paul Van Dyk / Derrick Carter / Jimmy Van M / Junkie XL (live) / Lee Burridge / Sasha / Sean Cusick (Los Angeles Memorial Coliseum Gardens)
- Universe New Year's Eve - Paul Oakenfold / Deep Dish / BT (Hollywood Boulevard)
- Mandy Patinkin (Ahmanson Theatre)
- Ozomatli (Knitting Factory)
Nashville
- Kenny Chesney / Jamie O'Neal / Sara Evans / Phil Vassar (Gaylord Entertainment Center)
- Jason & the Scorchers (Exit / In)
New Orleans
- The Neville Brothers (Fairmont Hotel)
- Jimmie Vaughan / Marcia Ball (House of Blues)
- Colonel Bruce Hampton & The Code Talkers (Maple Leaf)
- Rebirth Brass Band / George Porter Jr. & Runnin' Pardners (Tipitina's Uptown)
New York
- Guided by Voices / the Strokes (Apollo Theatre)
- Edgar Winter Band (B.B. King's Blues Club)
- David Sanborn (Blue Note)
- Chris Smither / Buddy & Julie Miller (Bottom Line)
- Patti Smith (Bowery Ballroom)
- Soulive / Robert Randolph (Irving Plaza)
- Smash Mouth (Planet Hollywood)
- Vida Blue (Page McConnell of Phish, Oteil Burbridge, Russell Batiste) / Kid Koala / Bullfrog (Roseland)
- Southern Culture On The Skids / The Swingin' Neckbreakers (Village Underground)
Washington, D.C.
- Maceo Parker (9:30 Club)
- Dirty Dozen Brass Band / the Radiators (National Millennium)