New York, NY (Top40 Charts/ Blkmarket Membership)
Paxahau Promotions Group today released the artist set schedule for the 2011 Movement Electronic
Music
Festival. To see the schedule visit facebook.com/movementdetroit or www.movement.us. (A web version is also attached)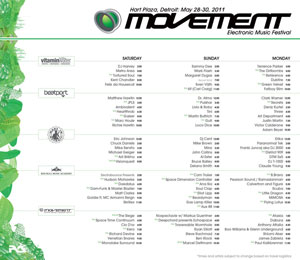 The artist schedule released today gives festival-goers for the first time a complete listing of which artist is playing on what stage, on which day, and at what time. The festival this year as it has been in the past has five stages-vitaminwater, Beatport, Red Bull
Music
Academy, Made in
Detroit
and Movement Torino.
Pre-sale one day passes available now. Three-day Passes $70 on May 14
Pre-sale one-day passes will be available for just $35 starting May 12. This is the first time one-day passes have been made available early, usually they are made available only through walkup.
The $60 three-day weekend pass pricing to the Movement Electronic
Music
Festival in
Detroit
will come to an end after being in effect since April. Starting on Saturday, May 14, weekend passes will cost just $70 and provide fans access to the festival May 28, 29, 30.
VIP passes to Movement are now available for just $150. With these passes festival-goers receive access to the following:
*
Private
check-in area to receive your credentials
*
Access
to large area above and behind the main stage
*
Private
bar - 6 complimentary drink tickets
* Discounted drinks available at the VIP bar
*
Deluxe
private executive bathroom trailers
* Voucher good for 1 Official Movement T-shirt (While Supplies Last)
For more info about Movement and to purchase tickets, please go to: www.movement.us.
facebook.com/movementdetroit
twitter.com/paxahau