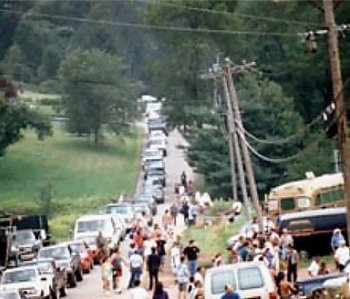 It wasn't the first of its kind, despite what convenient omissions history may have passed down. But Woodstock reigns supreme in most people's memory as the rock festival -the quintessence of that peculiar urge huge numbers of people have to make their way to some fairly remote spot, grab a few square feet of land and sit in various states of discomfort for days on end while a steady line of performers do their best to make the brief time they've been given to perform as memorable as possible, Woodstock's pre-eminence undoubtedly stems from the fact that -with the recent exceptions of Live Aid and the Nelson Mandela birthday celebrations of 1989 (known as Freedom Fest in the USA), and the Maysles Brothers' excellent Gimme Shelter movie of 'The Rolling Stones' tragic Altamont fiasco -the Woodstock Music and Arts Festival (to give it its correct most chronicled and quoted example of its genre.
It started, as most music business events do, as a great and relatively simple plan to make a lot of money. Attendance figures from previous festivals suggested there was an almost unlimited audience out there who'd be more than happy to fork out between five and ten dollars for 'Three days of peace and music'.
A site was found - 600 acres of land near Bethel, in upstate New York, owned by farmer Max Yasgur -and a date set: 15-17 August 1969. Work began on assembling the biggest and best list of rock's top names, and of putting together the infrastructure of what would be an ad hoc township with a population of around 200,000, all of whom would need feeding, watering and washing, and some of whom (for sure) would require medical help after over-indulging on the many and varied substances which would undoubtedly be on sale.
In the event, there were three deaths, two births and four miscarriages - what 'you'd expect from a town that size. What you wouldn't expect - and the organizers certainly didn't -was the complete chaos the festival would cause in the surrounding countryside as more than 400,000 people tried to make it to Yasgur's farm. There were traffic jams of 20 or more miles all round, including freeways. Onsite security, including ticket booths and official entrances, became swamped so quickly and comprehensively that the gates were simply thrown open and the festival was designated 'free'.
Musically the commitment and passion which comes out of the Michael Wadleigh movie, and from the grooves of the ten album sides Atlantic Records released, more than compensate for the flaws.
Among those who battled through the traffic and rain to fulfil their debt of honour by playing Woodstock were The Band, The Who, Jimi Hendrix (pictured bottom), Jefferson Airplane, Crosby Stills, Nash & Young, Creedence Clearwater, Tim Hardin, Country Joe & The Fish, The Grateful Dead, Sly & The Family Stone, Joe Cocker, Blood Sweat & Tears, Joan Baez, Mountain and Canned Heat.
Johnny Winter was there, too. Alvin Lee became a superstar via his appearance with Ten Years After, Ravi Shankar probably doubled sitar sales in America with his set, and Joni Mitchell (who didn't play) was inspired enough by the instant mythology to write a hit song.
Woodstock was the birthday party to celebrate rock 'n' roll music's coming of age. Nothing would ever be the same!