LONDON, UK (G. Michael Fans Website/Top40 Charts) - Exclusive on Top40-Charts.com: Screenshots from the Video Clip "SHOT THE GUN"!
British singer
George
Michael admitted Monday that his latest song - depicting British Prime
Minister
Tony Blair as a poodle to President Bush - was his most controversial career move to date.
"Shoot the Dog," released Monday, is a political satire in which the singer presents his views on the state of world affairs, taking a critical pop at the "special" relationship between Bush and Blair. "I'm fully aware that people don't really like their pop music and politics mixed these days," Michael said, describing himself as "truly a patriotic man."
Exclusive: SCREENSHOTS from
the Video Clip "SHOT THE GUN"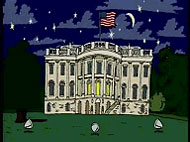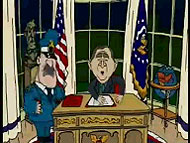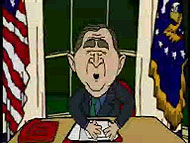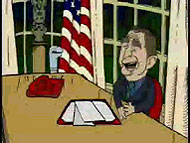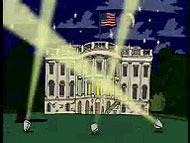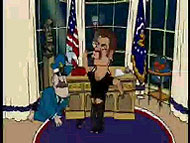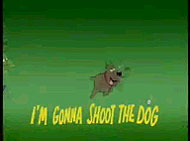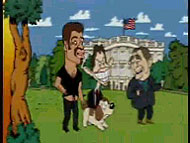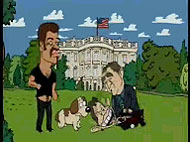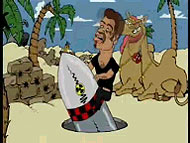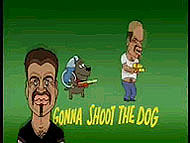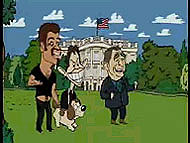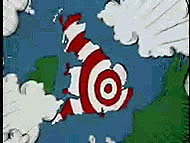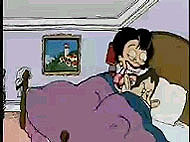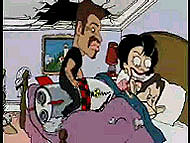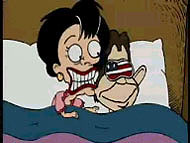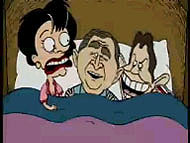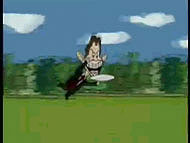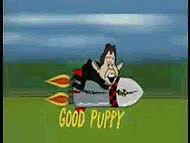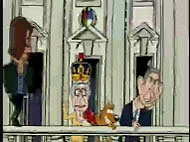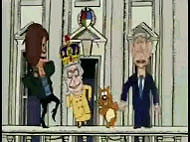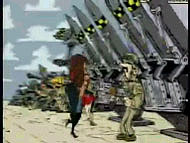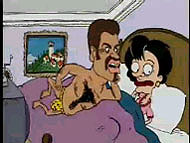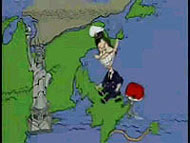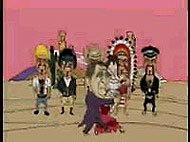 "Nevertheless, I have strong opinions about Britain's current situation and I feel that in a time when public debate is being suppressed, even something as trivial as a pop song can be a good thing," the singer said in a statement.
George Michael takes political swipes at British Prime Minister Tony Blair and President George W. Bush in the new animated video for his latest single, "Shoot The Dog."
The cartoon video shows Bush on the White House lawn petting a smiling poodle-shaped Blair and also depicts the two leaders dancing the tango, Blair in a flowing dress.
The clip portrays Blair as a "poodle" being tickled on its stomach by Bush. In another scene, the two leaders in cartoon form dance the tango, Blair wearing a dress, and the pair boogie to the Village People. An animated version of Michael also appears in the video, goosing the Queen and riding atop a rocket from Iraq that lands on the bed of Blair and his wife Cherie Blair. In a leopard-print thong, Michael tries to seduce the Prime Minister's wife.
There are blunt lyrics in the song, including the lines: "So Cherie, my dear, could you leave the way clear for sex tonight? Tell him: 'Tony, Tony, I know that you're horny, but there's something' bout that Bush ain't right."
"My feelings about George Bush, however, are a little different," Michael added. "And I know I'm not alone in fearing his politics, and in hoping that our man Tony can be a calming and rational influence on him."
But Michael doesn't have hostile feelings towards the U.S., just the political leadership. He told the BBC, "Don't get me wrong, I am definitely not anti-American, how could I be? I have been in love with a Texan for six years and we are still going strong."
Michael's previous video, for the song "Freeek," features sexual imagery and themes, and drew numerous complaints from U.K. viewers when it was shown in the early evening on television and Britain's Broadcasting Standards Commission reprimanded BBC One.
The Prime Minister's office at Downing Street In London has so far declined to make any comment on the new video.
The song, which was originally written before the Sept. 11 attacks on the United States but shelved until now, is an attempt by Michael to get people thinking about what is happening in the world. "(It's) intended as a piece of political satire, no more no less, and I hope that it will make people laugh and dance, and then think a little, that's all," Michael said.
Michael told the Daily Mirror his inspiration came from watching late-night news on television. "I noticed a lot of stuff about the growing fear of a war between the secular world and the fundamentalist world," he told the tabloid newspaper.
"The more I learned, the more fearful I became. And I simply wanted to write a song that said to everybody: 'people let's be aware of this situation and understand that there are some very pissed-off people out there."'
The song's release is bound to spark controversy and by the singer's own admission could "make my experience with a certain policeman in Los Angeles look like a tea party."
It was in 1998 that Michael was arrested in a Los Angeles toilet after exposing himself to a police officer.