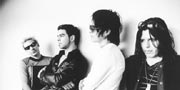 NEW YORK (Top 40 Charts) - Emerging from the ashes of Montreal's most thriving alternative band, CURL has quickly taken back the place occupied by its former incarnation (Santeria) to become one of the city's leading forces on the music scene.
Over the years, CURL has built up a strong base of loyal fans always ready to follow their

favorite band everywhere they perform. The quartet's uniqueness resides in its powerful rhythm and its strong, easy-to-remember melody lines. CURL's music finds its distinctiveness in its various influences, from Bowie and the Stones to Jane's Addiction and Stone Temple Pilots, and even Belgian singer Jacques Brel. On stage they manage to deliver the same energy as much heavier bands.
Next CURL Appearance

  - Montreal (Canada)
    Feb. 9th at Club Soda
The last three years have been really busy for
CURL
They warmed up more than 12,000 people as the opening band for MOIST.
Later, they isolated themselves in the studio with Amir Derakh (ORGY, COAL CHAMBER, THE EELS) to record their first album. The final mix was done by Glen Robinson (TEA PARTY, VOIVOD, TORI AMOS) and
Daniel
Ste-Marie (DUBMATIQUE, ROCK VOISINE). The band then proceeded to clean up the business aspect of
CURL
, looking for a new management team and a new record deal. All this delayed the release of the album - a tough decision that, later, proved to be a good one.

CURL's first album (Erotic Century) released on November 13th 2001, critically acclaimed by all medias as one of the best albums from a new band. "Erotic Century" was released as the first single on Official Canadian Top 100 singles charts and it peaked at #25

spot! (produced by Curl and Glen Robinson, engineered by Amir Derakh, mastering by Michael Sarsfield, mixed by Glen Robinson).
CURL will be appearing in Club Soda, Montreal on February 9th. Their next stop will be in Ontario, on a tour continuing in the rest of Canada, but also including USA and Great Britain.
Band profile (members):
- Denton (vocals, rhythm guitar and main composer)
- Krow (Guitars)
- Carlos (Bass guitar)
- Patrick (Drums)